So two weeks ago I went on a weekend roadtrip with my family to Oregon. I had lots of fun, but between that and Megan's California trip we had hardly anything posted then. Whoops!
Among all of the crazy road- trip stuff I did (including getting stuck in a flash thunder storm, seeing a car with a mustache and eating a mini pie) I visited about five bookstores. In four days. And I completely splurged. My new book stack includes 8 books, 7 different authors and is about 9.5" tall.
First shop we stopped in was a used book store with over 1/2 million books. It was huge, and it was completely organized! Pretty awesome. I got three books:
1. A great and terrible beauty by Libba Bray (been waiting to read this for a while, and it's never in at the library)
2. Ballad by Maggie Stiefvater (The author. Need I say more?)
3. Faerie Wars by Herbie Brennan (I think I've heard of this before, plus it looks good.)
Now, while they were 'used' I can't imagine how. They look brand new! They were all between $4 and $5.
The next day we stopped in another new and used book store, the biggest book store I have ever been in. It was massive. It's in Portland, Oregon, and if you're ever passing through this is a must-stop.
Here's the site.
Over 4 million books in one store. It was busy, and full of books, and full of any book you could possibly want. I loved it.
I got three books:
4. Blue Bloods by Melissa de la Cruz (Been meaning to find this book for ages)
5. City of Bones by Cassandra Clare (It was either buy it or wait for it to come at the library for months, and it was only 6 bucks brand new on sale!)
6. Writing Magic by Gail Carson Levine (It's not a novel... more on that later)
Then we went for lunch, and came back because we didn't get enough time the first time. Too many books to look at before we got too hungry for lunch! I had a yummy crepe then. Mmmmm, I could go for another of those right about now.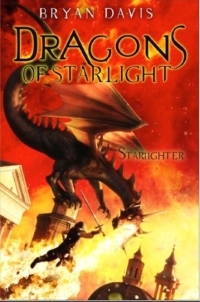 7. The second time in the same store I got Starlighter by Bryan Davis. Never heard of it, but it looked pretty good and I'm a sucker for dragons.
We went into a couple other used stores over the next few days, where I didn't find anything at prices I deemed acceptable for used books. (Sorry, but I'm not paying eight dollars for a book that's dog eared. What can I say? I'm cheap.)
Then in the last store I got one last book:
Lament by Maggie Stiefvater (The sequel to Ballad)
I'm very happy with my haul. I only spent about $40 and got 8 good books in perfect condition! Success, I think.
And now for more about that one book, Writing Magic. It's a book full of writing exercises and tips for writing fantasy. Now, I follow Gail Carson Levine's blog (
http://gailcarsonlevine.blogspot.ca/
) and she has super advice on writing! This book I got has 30 chapters- each ending with a new writing prompt or exercise. I'm going to give a go at going through the whole book and doing EVERY exercise. They seem really cool, from what I've read, from short stories to dialogue to just describing things. I think that some may turn out to be very crazy. Crazy enough to share.... winkwinknudgenudge.